HHRO-C series water purifiers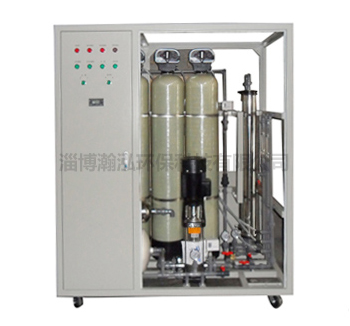 Applied
The hospital center supply room, operating rooms, and other pure water demands departments; Industry, food.electronic industries water use.
Main parameters
Feed water pressure: 0.2MPa-0.4MPa
Raw water temperature:5-35℃(25℃ for best)
Raw water hardness:≤8 mmol
Ambient temperature:2-45℃;Humidity<85%RH
Pure water conductivity: 15us/cm
Ions removal rate:≥99%
Endotoxin and bacterial removal rate:≥99.9%
Recovery rate: 76%
Product water quality: Complied with hospital sterilization supply center WS310.1\2\3-2009 standard; 2005 version of pharmacopoeia purified water and GMP standard.
Main component
▲Automatic multi-media filters.
▲Automatic carbon filters.
▲Automatic softening system
▲Precise security filters.
▲Thickening carbon steel plastic spraying cabinet.
▲Import reverse osmosis RO film.
▲Taiwan constant pressure water supply system.
▲PLC control system.
Production feature
▲Product water quality meets the needs of national sterilization supply center standards.
▲Automatic pretreatment system, washing and regeneration automatic operation.
▲Soft water and pure water have independent water supply lines, multi-sites water available.
▲PLC automatic program running. without a special person to care about.
▲Have no water protection, high and low pressure protection and other functions.
▲LCD touch screen with Chinese menu.
▲Reverse osmosis host have automatic pulse washing function.
▲Carbon steel plastic spraying cabinet, compact and concise structure, cover a small area.
▲Can be connected with any brand of cleaner and sterilization equipments.
▲Various parameters of the water can be on-line detection and display.
▲The constant pressure water supply system.
▲Complete power and water saving functions.
Technology process
Model and specifications
Parameters

Models

Water production

L/H(25℃)

Power(kw)

320cleaner

quantity

480cleaner

quantity

520cleaner

quantity

Dimension

(L×W×H)mm

HHRO-300CA

300

380V/2.0

1-2

1

1

900×800×1900

HHRO-500CL

500

380V/3.0

3~4

2~3

1~2

1500×800×1800

HHRO-1000CL

1000

380V/4.0

5~7

4~7

3~4

1500×800×1800

HHRO-1500CL

1500

380V/4.0

-----

8

5-6

1500×800×1800
Note: According to customers requirements to design and produce.
Previous:没有了!
Next:没有了!