Pharmaceutical purification water system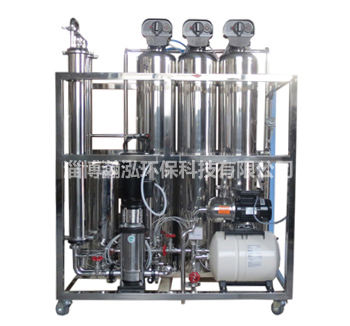 Purified water system play an important role in the whole certification process of GMP system. Two -stage reverse osmosis, two-stage reverse osmosis + EDI core technology has been widely used for producing pharmaceutical factory purified water.
main application
▲The sterile drug ingredients
▲Direct contact with drugs equipment, appliances and packaging materials' last washing water
▲The sterile API refining process water
▲Raw water of injection water, direct contact with the final sterilization of cotton goods packaging material crude wash water, etc
▲Purified water can be used as a common pharmaceutical preparations of solvent or test water.
▲Can be used as traditional Chinese medicine injection, eye drops and the tablets' extraction solvent for preparation of sterilization.
▲Oral, topical preparations solvent or thinner
▲The Non-sterilization appliance with fine washing water.
▲The Non-sterilization solvent use tablets' extraction solvent
Standard
▲"Drug production quality management norms" (2010 edition)
▲"The Chinese pharmacopoeia (2010 edition)
▲"Drug production quality management standard implementation guide"
Water making process
Use the drinking water as raw water, through multiple media filter, softener, activated carbon filter, the security filter, etc to make pretreatment of raw water , again after the secondary reverse osmosis water purification system, flow into the purified water storage, recycling used distribution line to the point,at the last cycle back to the tank.
Features
▲The main frame is made of stainless steel, beautiful and clean, compact structure, cover a small area
▲The machine adopt sanitary materials, concise and compact structure, system without dead space design, to ensure water quality
▲The system adopts full automatic control, simple and convenient operation
▲Pretreatment system automatic flushing,reverse flushing and regeneration.
▲System pipe with no dead Angle design, pure water circulating supply, effectively prevent biofilm formation, reduces the risk of microbial contamination
▲fault alarm protection function, such as water shortage protection, high and low voltage protection, power overheating protection, overload protection, etc
▲multi-disinfection way combination modular design, easy operation with high efficiency
Previous:没有了!
Next:没有了!